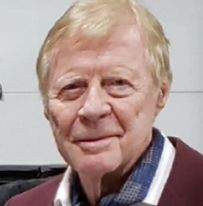 Robert Livingstone: Financing, Production, Screenwriting, Editorial services.
Robert Livingstone Screenplays
The near future. Looking for solutions to the problems of crime, political gridlock and a crippled economy, Americans succumb to the candidate's message of family values and economic stability. They don't see it coming: the agenda that will deliver on the promises, a form of government they've never known. Fascism.
The Next President is a political thriller about a charismatic candidate who secretly embraces fascist doctrine. It is also a love story, with complications. Catherine Cortez, the protagonist, a top news anchor at a major network, is in a relationship with a U.S. senator. He's asked her to marry him. She resists because she sees marriage to him as a career-killer—which is part of her motivation to get out from behind the news desk and go after one last big story.
Cortez follows one story—a revolution in Cuba—and discovers a bigger one in the presidential candidate, who as senate majority leader, with ties to the military and the CIA, is behind the supply of illegal arms to the corrupt fascist government in Cuba.
In her pursuit, she puts her father's life at risk—the father she didn't know was still alive, the father she rediscovers in Cuba.
The ending is ominous.
A bookie forces a college genius to use his secret scientific discovery to win football games to pay off his coach/father's gambling debt.
Matt Jenson, a 21-year-old college senior, discovers how to make himself extraordinarily fast by manipulating his molecular system.
Matt's father is the head coach of the football team. He gambles. He's in deep to a bookie. When the bookie, Sid Leone, discovers the kid's secret, he forces him to use his enhanced speed to win football games.
A rouge agent in a covert government agency also finds out about him—through one of his professors—and he schemes to get his hands on his discovery.
After a few games, Matt discovers his speed is waning. His "charges" last for shorter and shorter periods of time. His playing is erratic. He tells Sid he can't guarantee a win in the final game, so the bookie and his gangster associates decide to bet against the team.
Then a cheerleader Matt had a fling with—who saw him with Sid, who she knows is a bookie—accuses him of trying to throw games. She tells him that if the team loses the final game, she will expose him. He's in a dilemma. Win or lose, HE loses.
Matt has developed a relationship with the girl next door, the girl of his dreams. The gangsters kidnap her to ensure that Matt doesn't change his mind about the last game. Matt goes after her.
Matt's father confesses his gambling. Tells Matt he is resigning as head coach after the final game.
Matt goes into the championship game without his special powers. Can he somehow rally the team to win anyway?
After the game, Matt's father is killed. The gun the killers used is placed in the father's hand. A confession letter he wrote is on his desk. To the authorities, it's a suicide. Matt believes otherwise. He thinks the bookie or his gangster associates killed his father. Or was it the rouge agent?
When Matt begins to suspect that possibility, he devises a strategy to bring all his adversaries together.
Editorial Services
for Books
and Screenplays
As a former publisher and editor, I've worked extensively with writers. As a writer myself, I have written three screenplays, an 8-part, 8-hour series, and a novel. I have edited books, screenplays and business plans.
Copy editing is the most critical and obvious service many writers require. General editing is different. Development work, story advice, character analysis
—
while important and often needed
—
are for the most part regarded by writers as subjective and open to debate. Advice on this level makes many writers defensive. Copy editing, on the other hand, is generally right or wrong, black or white. Little if anything to debate or defend.
What is Copy Editing?
Copy editing is the line-by-line correction of errors in spelling, punctuation, grammar and syntax, requiring a rule-based understanding of standard American English usage that traditional editors don't have.
Why is Copy Editing Important?
Errors of the type listed above will distract a professional reader. Too many errors too soon and the manuscript or script will be discarded. If there's a great story with well-drawn characters, the reader won't stay with it long enough to discover its real virtues. The writer will be written off as unprofessional.
When is Copy Editing Done?
It is the last step before submission to publishers or producers.
What does Copy Editing Cost?
Here's a table based on rates published by the Editorial Freelancers Association with a range of 5 to 10 pages per hour at an hourly rate between $30 and $40: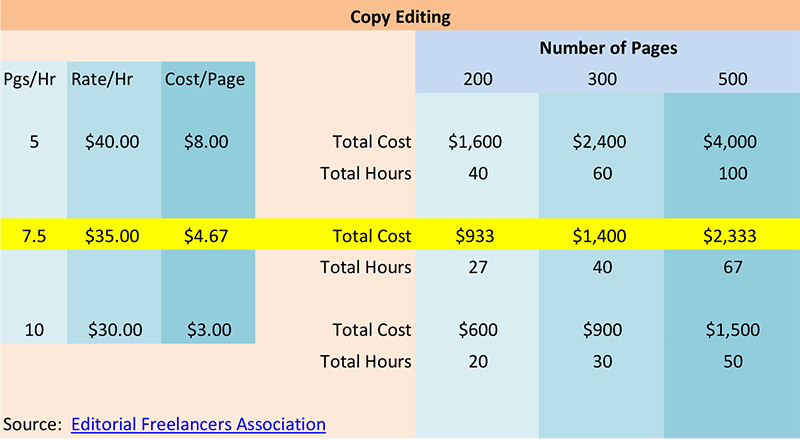 Introductory Rate
My introductory rate (highlighted in yellow) is based on the middle of the range: i.e., 7.5 pages per hour at an hourly rate of $35. You will therefore pay a per page rate of $4.67, regardless of how many hours I have to spend on your work. This is for introductory purposes only—your first manuscript or script. Thereafter, my rate will be somewhere between the middle and the top of the range. For those of you who don't know it, a page is a firm 250 words. If the way you formatted your pages increases the word count, I will start off by getting a total word count for the manuscript and divide it by 250 to get the "official" number of pages.
Sample of My Work
Send me the first 10 pages of your manuscript (in Word) or script (Final Draft, if possible), and I will provide you with a line-by-line edit at no charge. If you like what you see and decide to proceed, your deposit is 10% of the total charge. Another 40% is due when the project is half finished. The remaining 50% is due upon completion.
What Else is Included?
If I spot inconsistencies or redundancies as I edit your work, I will point them out. In some cases, they may be intentional—possibly to illuminate character or to jog a reader's memory; however, in most cases, you'll appreciate the advice and will make corrections. I will also change passive voice to active voice wherever appropriate.
Special Note
Please do not submit a first draft or a work in progress. It is important that you take your work as far as you possibly can—to the point where you're ready to submit it but have reasons to believe it needs copy editing. As Hemingway so famously said, "Writing is re-writing." He also said, "All first drafts are shit."
Contact Me
If you have questions, or there's something about copy editing you don't understand, contact me, either by email (boblivingstone@msn.com) or phone (305-748-7611).